Amazing Grace Lutheran Church
Amazing Grace proclaims the good news that God was in Christ reconciling the world to himself. We have served the community of Myrtle Beach since 2001.
Our Pastor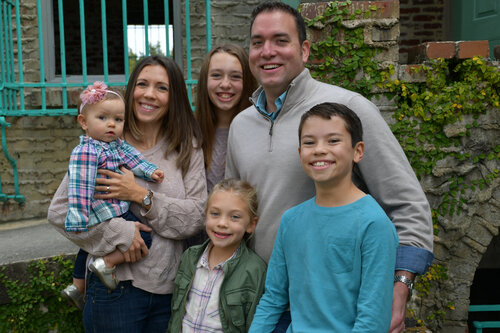 Pastor Zahn has been a full time pastor at Amazing Grace since July 2006. He has Southern ties having grown up in Atlanta and also Orlando.
Pastor Zahn graduated from Luther Preparatory School, Watertown, WI, in 1998. In 2002 he graduated from Martin Luther College, New Ulm, MN, with a bachelor's degree in liberal arts. He received his Master of Divinity degree from Wisconsin Lutheran Seminary in May of 2006. Previous ministry experience included one year of pastoral internship at Tree of Life Lutheran Church, Cary, NC.
Pastor Zahn is married to Rachel. She is a graduate of Martin Luther College in New Ulm, MN. They were blessed with their first child, Noelle Marie, in August 2007. In December 2009 they were blessed with a son, Caleb Benjamin. In April 2013 they were blessed with their third child, Eliana Mae. In February 2019, they were blessed with their fourth child, Mariah Grace.
Pastor Zahn is eager to meet you. If there is any way he can help or serve your needs, please contact him at 843-236-9134. Or email him at zahn.email@gmail.com.
Our Vicar
Hello, I am Jacob Kieselhorst,  one of eight children so there have always been a lot of different things going on in my life.  In the rush of activities that accompanies a large family, Christ has always been at the center of everything our family has done.  And now, God has blessed me with the incredible gift of being part of another large family.  I'm truly looking forward to getting to know all of you and for you to get to know me as well.  I would like to share a little about myself.  I love pretty much any sport, as well as most outdoor activities, like biking or hiking.  I've heard that golfing is a popular pastime down in Myrtle Beach.  Unfortunately, my golfing skills leave much to be desired; however, I always enjoy the challenge of improving my skill.  I pray for God's blessings as I serve Him and you.  I also pray that He will increase our zeal as we spread the Gospel message together as the family of believers.  May our mutual prayer be that the Lord bring me safely into your midst and bless our labors together in His vineyard.
I can be reached at the following email address:  jacob.kieselhorst@wisluthsem.org
History
The South Atlantic District Mission Board began calling for a mission explorer in 1997 for the Carolina Forest area of Myrtle Beach, South Carolina. Pastor James Schumann of Fond du Lac, Wisconsin, accepted the call in January of 2000, and in June of that year he and his family moved to a rented condominium while the new parsonage was being constructed in Carolina Forest.
The first worship service s were held in the rented condominium on River Oaks Drive. As the group grew larger, serviced were moved to Hunter's Ridge Child Care on Forestbrook Road. After a year of canvassing and outreach, the official "Kick-Off Service" was on September 9, 2001, in the Wall Auditorium at Coastal Carolina University. The Lord blessed his Word in the Wall Building for the next three years as the mission grew to over 60 souls and for three successive Easter services the worship attendance was over 100. In August of 2004 the church wanted a more permanent place for ministry and moved to a rented storefront at 1701 Hwy 544. Amazing Grace Lutheran Church received official "mission status" from the Wisconsin Evangelical Lutheran Synod in April of 2005, and in June of 2006 the group moved to another rented storefront ministry center at 4761 Hwy 501, closer to the target mission field of Carolina Forest.
In May of 2006 Pastor Schumann accepted a call to serve Crown of Glory Lutheran Church, in Orlando, Florida. The second resident pastor for Amazing Grace Lutheran Church was seminary graduate Benjamin Zahn, who arrived in Myrtle Beach with his wife Rachel in July 2006.
Under God's blessing, Amazing Grace dedicated its first church building (worship, education, and fellowship space) on March 27, 2011. A permanent home for the ministry of Amazing Grace is a blessing from our gracious God that enhanced and expanded our opportunities to reach the unchurched in our community and bring them into a family of believers. God has granted growth over the past several years and allowed Amazing Grace to expand its ministry with the start of Amazing Grace Lutheran Preschool in the Fall of 2016.